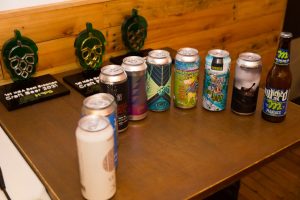 Increasingly reinforcing its presence in the Brazilian market, Hop Growers of America (HGA) will be at Brasil Brau 2022. The beer industry trade show will happen from May 30th to June 1st at Expo São Paul. One of the goals of USA Hops in Brasil Brau is to promote the quality of American hops among professionals in the sector.
In addition to participating in Brasil Brau HGA is preparing a second edition of the "HGA Best Brazilian Craft Beer 2022". An initiative that involves craft breweries from all over Brazil in a contest to promote the use of American hops. Breweries will be invited to develop their own beer using the American hops provided for the contest. Access this article to learn more about how was the event in 2021.
Another action promoted by USA Hops is the organization of a Technical Seminar on May 31 at the ICB (Instituto da Cerveja Brasil). It will be an in-person seminar featuring Alexandra Nowell, Master Brewer and Founder of Three Weavers Brewing Co., aimed at craft brewers and other professionals in the sector. Analysis of hops will be conducted during the event and, additionally, brewers will have the opportunity to produce beer using American hops. The event will be free and limited to 60 participants.
For more information, please send a message to slegnani@riverglobal.net and atosaopaulo@usda.gov
About HGA
Hop Growers of America is a nonprofit trade organization with primary focus on Grower Support, Statistics and Trade Promotion, and Education. HGA provides updates on the progress of each crop year and overall hop market through a schedule of releases tied to statistics and updates from the USDA and the International Hop Growers Convention (IHGC). HGA also provides educational seminars at esteemed international brewing schools; attends trade shows with hop and beer samples, grower delegates to answer technical questions, plus materials on variety information and where to buy them; statistics, and other activities.