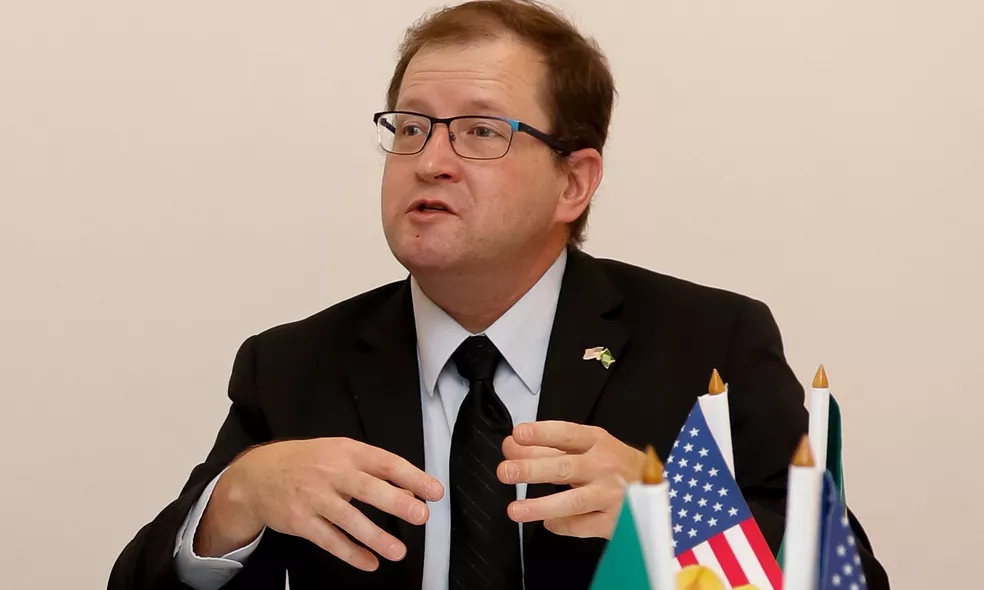 FAS Brasil organized the participation of two top US government authorities – USDA Chief Economist, Dr. Seth Meyer, and USDA Senior Policy Advisor Jeremy Adamson – in the Global Agribusiness Forum (GAF), held in São Paulo. They also had an intense agenda of visits to Brazilian agribusiness entities. The visit took place between the 25th and 29th of July 2022.
The first two days of Mr. Meyer and Mr. Adamson's agenda were entirely dedicated to the GAF. GAF 2022 sessions focused on how the agricultural sector can seek solutions to major challenges faced by humanity while addressing global climate change goals.
In addition to Mr. Meyer and Mr. Adamson, USDA was also represented by Sao Paulo's ATO director, Mr. Nicolas Rubio. The three participated as panelists in the event. Mr. Meyer's presentation was about the outlook for agricultural markets. He described the current situation of commodity prices and volatility, worldwide food insecurity, South American production, and other international current affairs. Mr. Adamson focused on USDA initiatives promoting sustainable, productive agricultural practices, development and promotion of markets for climate-smart commodities, innovations aimed at reducing greenhouse gas emissions, and efficient use of fertilizers. Mr. Rubio's presentation focused on the challenges of guaranteeing food security in the long-term, and described how countries must manage the increasing demand for food while taking action to control the negative consequences of climate change.
Mr. Meyer and Mr. Adamson participated in interviews and press briefings at GAF and were covered by notable outlets, including Valor and AgWeb. Mr. Rubio gave interviews to Globo Rural magazine and Broadcast Agro.
After GAF, Mr. Meyer and Mr. Adamson went directly to Cuiabá, in the State of Mato Grosso, for a series of meetings with agricultural sector's representatives. The first meeting took place at the headquarters of Federation of Agriculture of the State of Mato Grosso (Famato). Famato's representatives reviewed the recent history of the State's agricultural development and current challenges, especially logistic issues and environmental legislation. The following day, the USDA delegation visited Bom Futuro farm, to see the cotton fields, a grain warehouse, bees, a bio-factory, seed improvement technology, and machinery.
The commitments of the following two days took place in Brasília. The USDA delegation participated at a fertilizer-use efficiency research meeting with Brazilian Agricultural Research Corporation (Embrapa) representatives to identify common fertilizer research priorities.
On the same day Mr. Meyer had a meeting with the Under Secretariat for Agricultural Policy of the Ministry of Agriculture, Livestock, and Food Supply (MAPA). The meeting was held with 20 employees, who cover different topics such as economics, forecasting, grains, oilseeds, fruits, sugarcane, and trade.
Mr. Adamson met with the MAPA Departments of Innovation and International Relations. The discussion focused on preparations and objectives for COP-27 and the role of agriculture.
On the last day of visits, Mr. Meyer spoke at the National Confederation of Agriculture and Livestock (CNA). He presented his outlook for agricultural markets, spoke about high and volatile commodity prices, the impact of the conflict in Ukraine on grain production and trade, supply chain disruptions, fertilizer markets, commodity demand, supply side effects, and ethanol, soybeans and corn production.
In 5 days of intense agenda, the presence of the two high authorities of the United States government made it possible to transmit the current vision of the USDA regarding the most relevant themes of the agricultural sector to Brazilian entities. Mr. Meyer and Mr. Adamson's visit to Brazil had great repercussion in the Latin American press, being reported in local press vehicles as well as in countries such as Argentina, Colombia, Ecuador, Guatemala, Mexico, and Panama. In all, these news reached an audience of more than 2 million people, between online, printed and TV media.